Content is a critical component to any inbound marketing program. It's how new people find your company's website, it educates prospects and compels them to complete lead forms, and it ultimately builds trust between your business and your prospects and customers.
According to research conducted by TREW Marketing and GlobalSpec, the vast majority of engineers say they are more likely to do business with businesses that regularly publish content and they find multiple content types valuable as they research and make purchasing decisions for B2B products and services.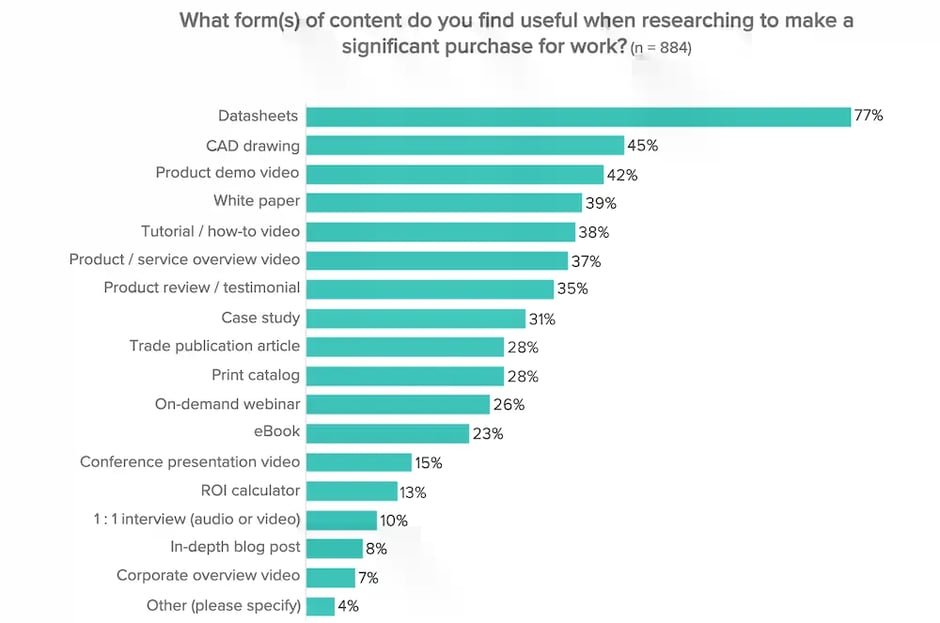 For content to resonate with technical audiences, it must be timely, relevant, and available when and where your audience is looking for it. Achieving this requires a sound content strategy and plan. Whether you are planning content for a single campaign, a business unit, or your entire company, the following six steps will ensure that your team is aligned on what you are trying to achieve and how to get there.
STEP 1: SET YOUR CONTENT GOALS
The simple process of documenting what you are trying to achieve with your content marketing efforts will ensure that your team is aligned and working toward the same objectives. Your content goals may be around filling current content gaps, setting a certain content frequency, making better use of existing content, addressing a competitive threat, or improving your content performance. These goals will inform that types of content you include in your plan, the topics you chose to write about, or who you target for your content.
STEP 2: IDENTIFY YOUR TARGET PERSONAS
Think about some of your recent sales or top accounts. Who is the person at those companies who brings you in, champions your company, or serves as a gatekeeper to closing the deal? Those people are likely your target audiences for your content. Select your top three buyer personas and enlist help from someone in your organization who regularly interacts with customers to build out a picture of who these people are, what they care about most, what problems they are trying to solve, and how your company can help them meet their goals, overcome obstacles, and do their jobs more effectively.
STEP 3: SELECT YOUR CONTENT THEMES
At TREW, we use a content topic cluster approach to content planning because it's a great way to focus the discussion on the core themes that matter most to your company. It's also an effective way to ensure you have deep content coverage around these themes and, as a result, boost your SEO. To get started, identify 2-3 themes that are important to your target audience and in which you are experts. Content themes can an application area (control system modernization), a trend (electrification), a technology (5G), or a risk area (data security).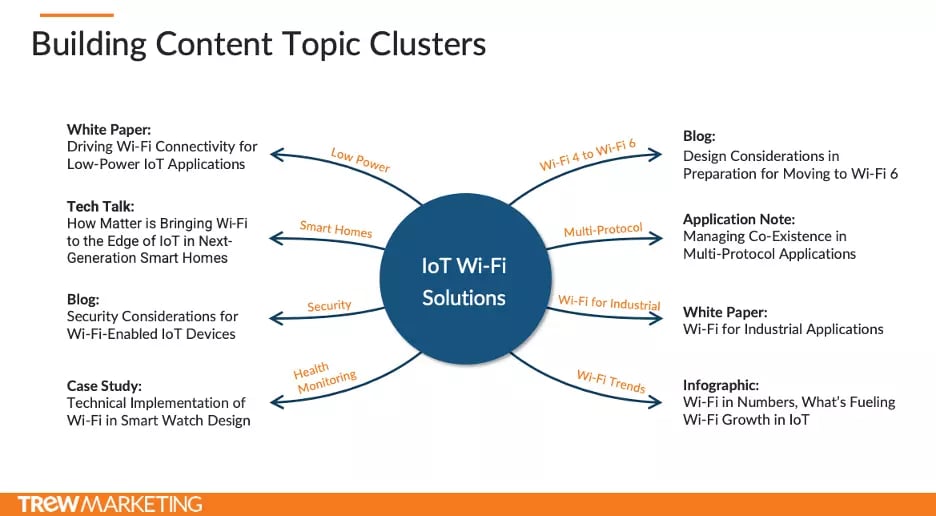 STEP 4: BRAINSTORM TOPICS AND CONTENT TYPES FOR EACH THEME
Working with one theme at a time, brainstorm 6-8 topics that relate to that theme. If your theme is autonomous driving, for example, some of your content topics may be NCAP compliance, smart lighting systems, or LiDAR STOP analysis. Then, for each topic, decide with your team what angle you'd take on the topic (develop a working headline) and what type of content would best tell the story, such as a high-level blog, a deep-dive application note, or a short explainer video, for example. Complete this exercise for each of your content themes.
STEP 5: MAP YOUR CONTENT TO YOUR BUYER'S JOURNEY
Next, ensure that you have content for each theme for every stage of the buyer's journey, with a clear plan of how to navigate readers to the next step through effective calls to action. For example, you'll likely have some thought leadership awareness pieces to bring audiences in, some technical how-to content or case studies that dive deeper into challenges and solutions to help convert audiences, and some selling pieces such as product selection guides that help navigate your offerings. Don't forget to include relevant existing content as well as new content in your mapping.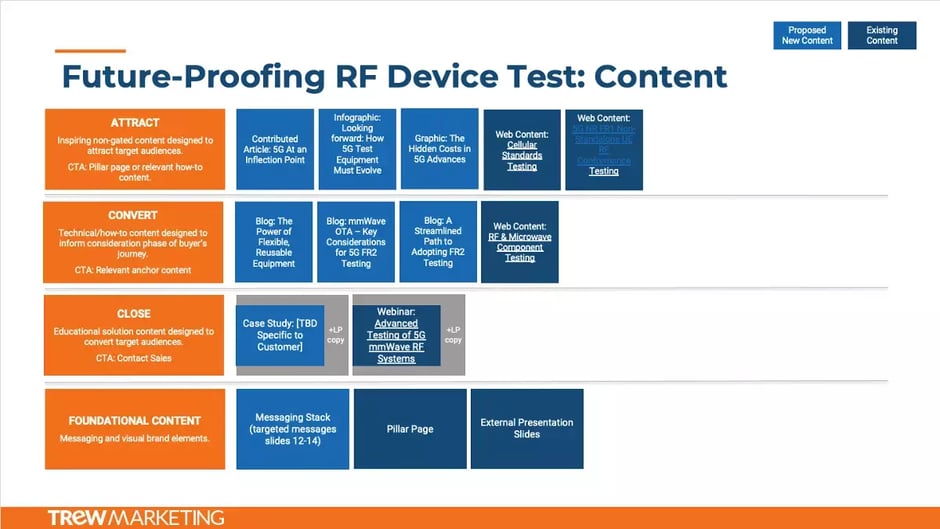 STEP 6: CREATE A PRODUCTION CALENDAR
You may have dozens of great content ideas at this point in the planning process, but to ensure that content gets created, you need a tactical production calendar. We use a simple Excel spreadsheet that lists the content topic, type, publication date, content owner, and subject matter expert. Keeping in mind key dates for events, launches, and other campaign focus areas, as well as your target content cadence, map out when you'll create each piece of content and who is responsible for making sure it happens.
With a plan in hand, you're ready to get started. While your content plan may extend for the next six months or even a full year, we recommend that your content planning committee reconvenes at least once per quarter to evaluate performance metrics and modify your plan accordingly.